Texas Wheat Producers Board
The Texas Wheat Producers Board, established in 1971, was developed to provide support and funding for wheat research, education and market development.
The board currently operates on a two cent per bushel checkoff fund. Fifteen wheat producers sit on the board, attend quarterly meetings, manage the collection and expenditure of funds, and represent Texas wheat producers at several local and national conferences, meetings and symposiums.
Each member serves a six-year term, representing one of four statewide districts: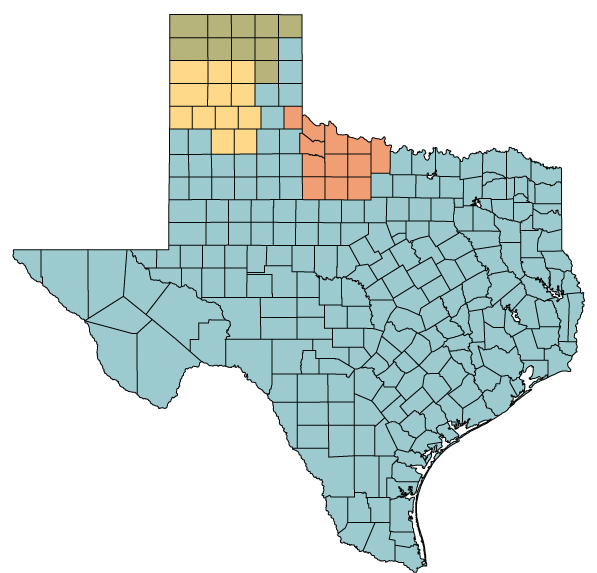 DISTRICT I (green): Dallam, Sherman, Ochiltree, Lipscomb, Hansford, Roberts, Moore, Hartley, Hutchinson and Gray.
DISTRICT II (yellow): Carson, Potter, Oldham, Deaf Smith, Randall, Armstrong, Briscoe, Swisher, Castro, Parmer, Hale and Floyd.
DISTRICT III (orange): Childress, Hardeman, Foard, Knox, Throckmorton, Haskell, Archer, Baylor, Wilbarger, Wichita, Young and Clay.
DISTRICT IV (blue): All other counties in Texas
Board of Directors
Ben Scholz, Lavon
Chairman
Collin Bowers, Spearman
Vice Chairman
Ken Davis, Grandview
Secretary/Treasurer 
Jody Bellah, Throckmorton
Scott Born, Ferris
David Cleavinger, Wildorado
Bryan Clift, Stratford
Chet Creel, Newcastle
Glen Gibson, Lometa
Scott McGarraugh, Perryton
Gary Murphy, Dawson
Jack Norman, Howe
Corby Shadid, Panhandle
Freddie Streit, Vernon
Tommy Womack, Tulia